Hello and welcome to our guide on everything you need to know about securing BYOD. By the end of this article, you'll have a solid idea of what BYOD is, why you need a strategy for it, and the best ways to ensure that BYOD doesn't lead to data loss.
Let's get started!
What is BYOD?
To begin with, let's cover what BYOD is. This acronym stands for Bring Your Own Device. It's a workplace policy that enables employees to perform work activities on their own devices – such as laptops, smartphones or tablets.
Some workplaces have BYOD as their core strategy. They don't provide their employees with corporate devices and instead ask them to work from their own laptops and phones at all times. Other companies provide their employees with corporate devices, but still enable BYOD, so that people can access their emails, Slack chats and more while out of the office.
There's also a whole other category to consider: organizations that don't know about BYOD, even though it's happening. Increasingly, employees are downloading workplace applications onto their personal devices for enhanced flexibility and productivity.
However, the IT team is none the wiser that they're doing this! From our experience, a lot of companies fall into this bracket.
Anything that the IT team doesn't know about creates security risks. However, even for those companies that have embraced BYOD outwardly, there are security risks to consider – as we'll explore below.
BYOD can't be ignored!
Here's a brief picture of the state of BYOD across the globe. As you'll see below, employees want BYOD and it comes with a range of efficiency benefits…
The BYOD market is expected to reach $252.29 billion by 2026.
61% of young employees say using their personal devices makes them more productive.
6 in 10 employees use their smartphone at work – and 31% want to.
Implementing BYOD can save $350 per year per employee
Employees using personal devices for work save an average of 58 minutes per day compared to using corporate devices.
⅔ of employees use their personal devices for work, regardless of their company's BYOD policy
So, how did we get here? When did employees move from corporate laptops to their mobile phones? There's one crucial driver: cloud applications.
Outlook, Slack, Zooms, Google Workspace, Teams and more are all cloud-based applications. To access them, your employees just need their login details. It doesn't matter what device they use.
This means it's easier than ever for your employees to check their emails on their personal mobile phones, or ping an answer to a Slack message from their iPad.
At the same time, we need to remember that how we work has shifted dramatically over the last two years from being in the office most of the time to working remotely/hybrid.
In this environment, where employees work in different locations and more flexibly, using portable devices like mobile phones and iPads for work purposes has increased.
Whether you realize it or not, at least some of your employees will be accessing workplace applications from their personal devices – even if you don't allow it.
Ignoring this trend is a risky game. With regulations such as the CCPA, HIPAA, GDPR and GLBA to consider, organizations need to ensure they're proactive about securing company data on every device.
What are the security risks of uncontrolled BYOD?
The security risks of uncontrolled BYOD are multi-faceted. They include:
Loss of visibility: The IT team can't protect what it doesn't know. WIth uncontrolled BYOD, your organization loses visibility over where and how sensitive data is being shared, stored and altered, which heightens the risk of a data breach or data leak.
Data leakage: Without proper security controls in place, data is more vulnerable to accidental exposure in the cloud.
Theft: If a device is stolen, all the sensitive information on it is at risk.
Data breach and cyberattacks: Dodgy WiFi spots, malicious applications and SMS-ishing scams are all tactics that hackers use to target mobile devices. A successful attack could allow a cybercriminal to steal data from the victim's device or even launch a ransomware attack.
If data is lost, stolen or corrupted, the fallout for an organization could be huge. With the average cost of a data breach at $4.24 million in 2021, companies must be proactive about managing BYOD security risks.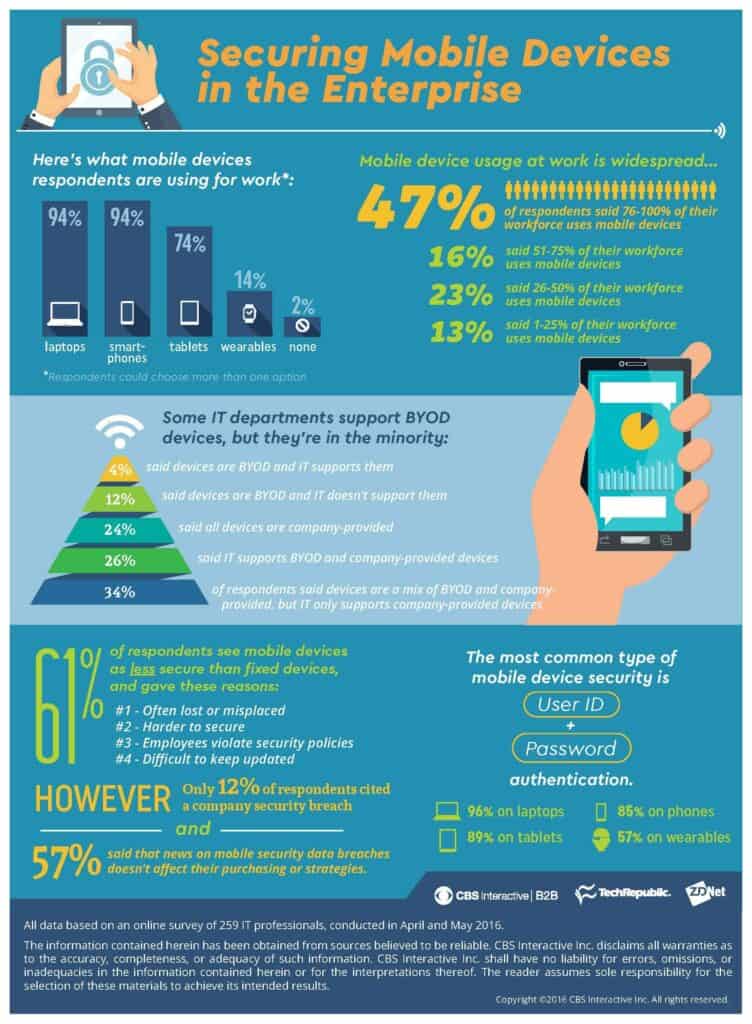 What are the challenges associated with securing BYOD?
Managing BYOD security isn't necessarily a walk in the park. There are hundreds of solutions out there that you can choose from – but some secure company data while forsaking employee privacy. Mobile Device Management (MDM), for example, involves stalling an agent on your employees' devices, which could potentially monitor their personal device usage.
BYOD + data loss prevention = a match made in heaven!
The hardest balancing act of BYOD is exerting control over your employees' usage of corporate data and applications on their own devices, without infringing their privacy. It's out of this challenge that a new breed of security solution was born: next-generation, cloud-based data loss prevention (DLP).
Rather than focusing on securing the endpoint, like MDM does, next-gen DLP is concerned with securing corporate data, wherever it travels. These solutions give you much needed visibility into cloud applications like Slack, Google Workspace and Teams – without the need to install an invasive agent on your employees' personal devices.
Next-gen DLP works by leveraging APIs to secure data in the cloud no matter where it's accessed from. These solutions also give IT teams unparalleled visibility into cloud application usage, providing granular visibility and control over how users interact with corporate data.
Through data classification and a self-learning engine, DLP automatically ensures that no data in the cloud is moved, edited or deleted without the IT team's approval. It also enforces policies like encryption, redaction and authentication to ensure that data is only accessed legitimately. The best in breed of these solutions also embed employee training into the daily workflow, nudging users to make security-conscious choices and protect data as they work.