Smart, scalable data loss prevention
Polymer helps companies protect sensitive data across cloud apps. Automatically reduce the risk of data exposure, train your employees in real time, and maintain HIPAA, PCI, and GDPR compliance.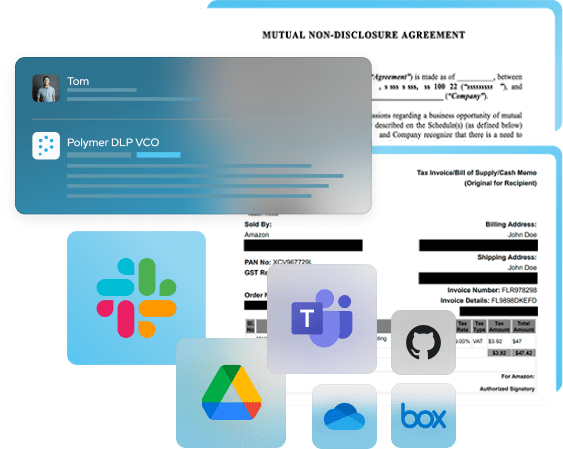 LEADING COMPANIES TRUST POLYMER





The fast & easy way to secure your data
Polymer uses natural language processing (NLP) and machine learning (ML) to make data loss prevention (DLP) smarter. Rather than alerting you of any and every potential data exposure, Polymer is contextually aware and remediates violations on the spot. That means better cloud security for your company with less headache.
No-code set up
Pre-built policy templates (HIPAA, PCI, GDPR, CCPA)
Context mapping
Automatic detection and redaction of PII, PHI, and more
Customizable nudges and training
Risk scores, reports, and dashboard
Integrations with popular SaaS apps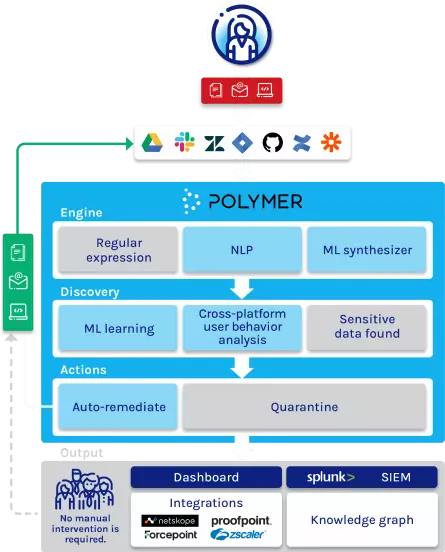 Integrations
Data protection where you need it most. Polymer integrates with popular cloud apps.
Why Polymer?
More employees than ever do their work in SaaS apps. This increases your company's risk of sensitive data exposure. Polymer is smart data loss prevention (DLP) that starts protecting your company in minutes without disrupting workflows. Polymer is customizable and contextually aware—saving you time and reducing operational oversight.
Data loss prevention (DLP) for SaaS
Polymer's no-code platform and pre-built templates mean you can reduce the risk of sensitive data exposure across your company's cloud apps now, not months from now. You're in control. Choose your data governance policies—like HIPAA, PCI, GDPR, CCPA—or build your own. Unsure where to start? Run a free Polymer Risk Scan or request a demo.